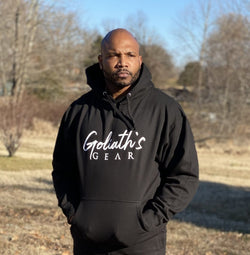 Goliath's Gear
Goliath's Gear Signature Font Hoodie
We are proud to unveil our Goliath's Gear Signature Font Hoodie. Our heavyweight hoodie are soft, comfortable, and designed to keep you warm no matter where the Lord may lead you.  This design was inspired by the many years my grandmother made me work on my handwriting at her kitchen table. For this design, I reviewed 100's of fonts just to find the perfect one for this artwork.
Hoodie Details
Cotton 50% & Polyester 50%
Seamless body with Smooth cuff construction 
Double lined hood with grommets and matching d
Double napped fleece provides a loftier, softer feel 
Two needle cover seaming at neck opening, armholes, shoulders, and waistband 
Proceeds from the sale of our lifestyle apparel brand will assist the Extraordinary League of Gentlemen (ELOG) and their charitable efforts.  Thank you for supporting our ministry.