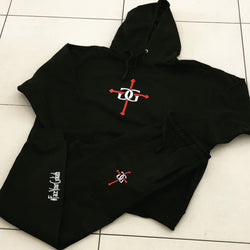 Goliath's Gear
Goliath's Gear Double G Sweatsuit
Goliath's Gear Double G Sweatsuit


Our newest design is a fan favorite that continues to grow in popularity so we had to throw it on a sweatsuit. The design features a front facing and rear facing letter G that's encased in a cross. This same design is on the right pant leg of our joggers, along with our slogan #faceyourgoliath on the left pant leg.
Hoodie Details
60% Cotton & 40% Polyester
Seamless body with Smooth cuff construction 
Double lined hood with grommets 
Double napped fleece provides a loftier, softer feel 
Two needle cover seaming at neck opening, armholes, shoulders, and waistband 
Proceeds from the sale of our lifestyle apparel brand will assist the Extraordinary League of Gentlemen (ELOG) and their charitable efforts.  Thank you for supporting our ministry.